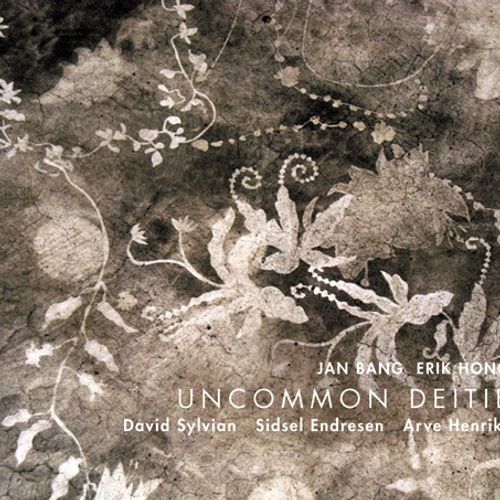 Uncommon Deities
Jan Bang and Erik Honoré
The two writers Paal-Helge Haugen and Nils Chr. Moe-Repstad wrote a series of lyrics dealing with absent gods and their blues. In the first set of the sound installation, Haugen's warm, dark voice mixed with sound webs by Arve Henriksen, Evan Parker, and selected passages from a composition by David Sylvian. It was pleasant to follow the Norwegian storyteller's voice, the sound of which transported me to the brink of sleep. Then later, in the second part, some stories about the unfortunate gods poured out of the speakers, with the dark velvet of Sylvian's speaking voice. Sidsel Endresen stepped up to the microphone and John Tilbury sat at the piano. The Uncommon Deities album is wonderful.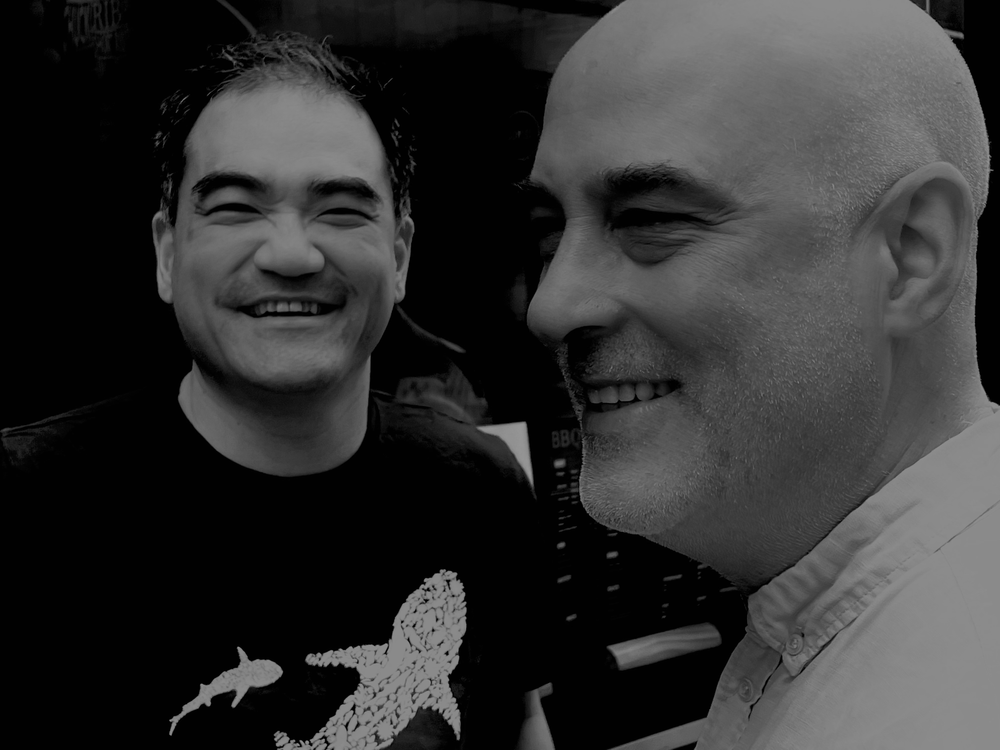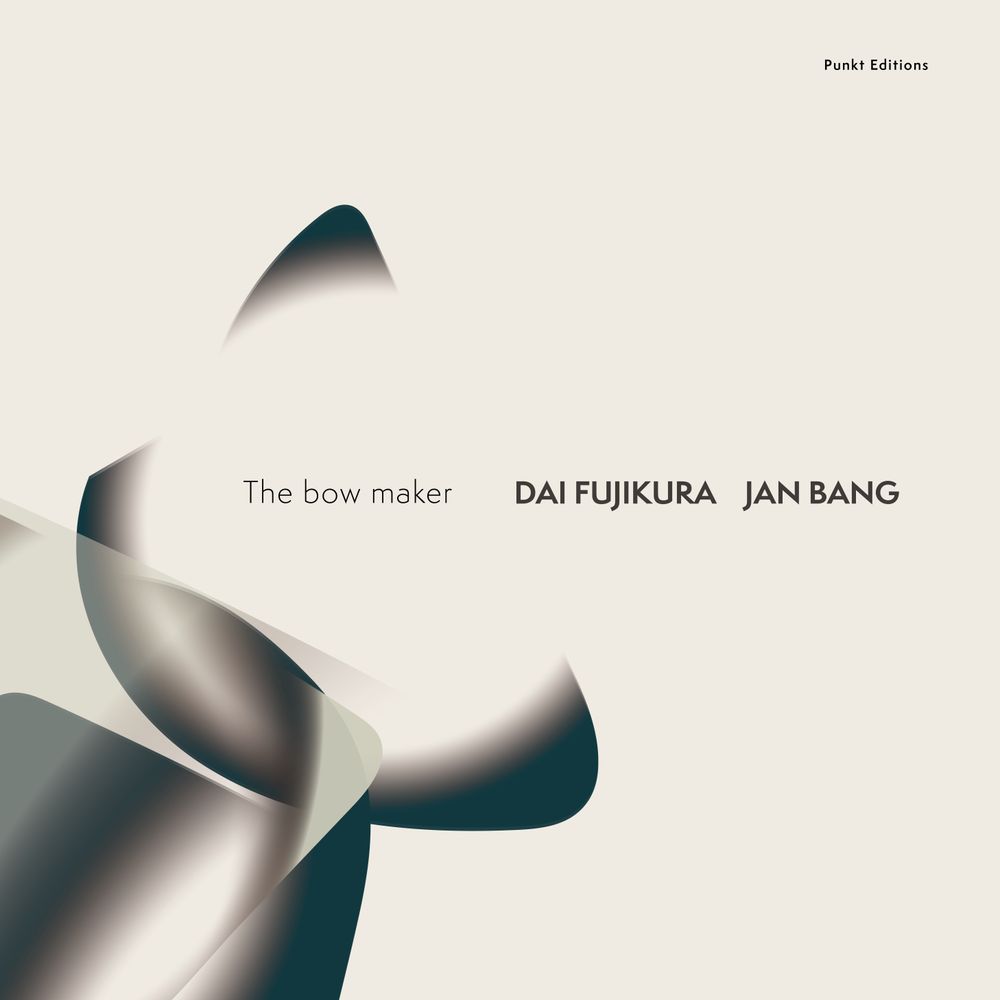 Dai Fujikura | Jan Bang
The Bow Maker (world premiere) at Born Creative in Tokyo
Japanese composer Dai Fujikura and Jan Bang will be performing a concert at Metropolitan Theatre in Tokyo as part of Born Creative. Together they will perform music from the forthcoming release on the new imprint Punkt Editions. The concert features Punkt´s co-artistic director and producer Erik Honoré, guitarist Eivind Aarset, and special guest appearances by Shamisen player Hidejiro Honjoh and koto player Michiyo Yagi.
Other concerts during Born Creative include a Punkt live remix of Anne Lanzilotti´s piece The Wayfinder, and a trio concert with Aarset | Bang | Honoré.
The Wayfinder by Anne Leilehua Lanzilotti 
Punkt Live Remix performed by:
Jan Bang live sampling
Erik Honoré live sampling, synthesizer
Eivind Aarset guitar and electronics
Dai Fujikura synthesizer
The Bow Maker by Dai Fujikura | Jan Bang
Dai Fujikura synthesizer
Jan Bang live sampling, samples
Eivind Aarset guitar and electronics
Erik Honoré synthesizer, live sampling
featuring special guests:
Hidejiro Honjoh shamisen
Michiyo Yagi koto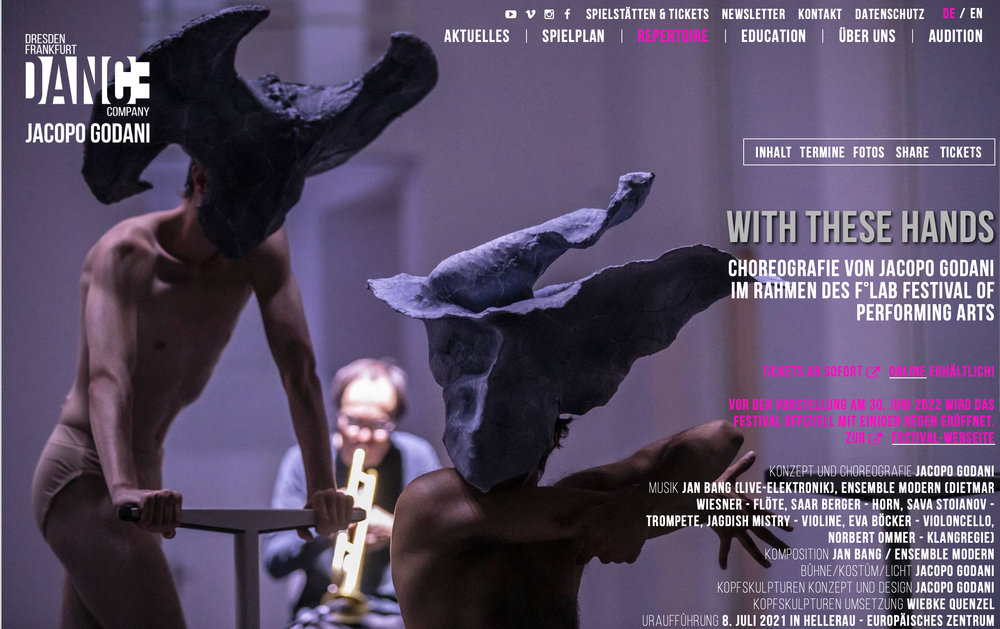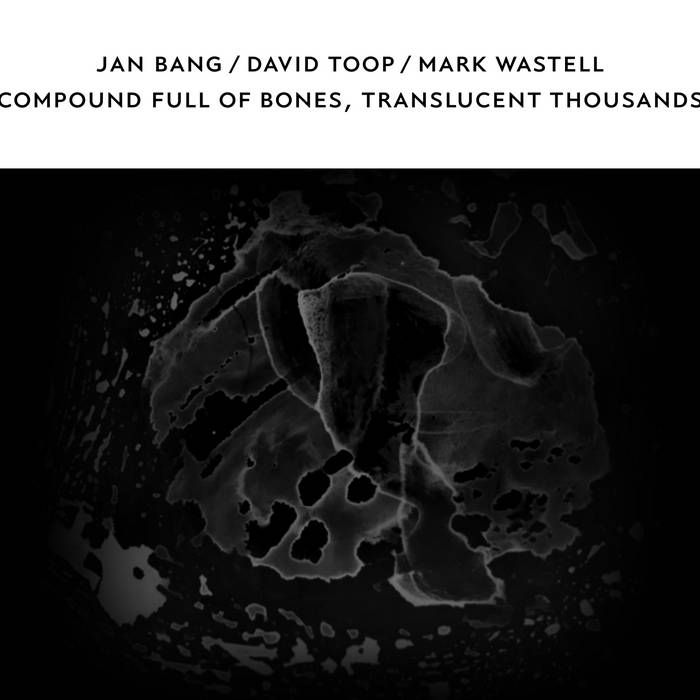 Jan Bang / David Toop / Mark Wastell
A very nice review from Downtown Music Gallery
JAN BANG / DAVID TOOP / MARK WASTELL - Compound Full of Bones, Translucent Thousands (Confront CORE 23; UK)
This gathering amounts to nothing less than an experimental/improv supergroup, featuring three of contemporary music's finest and sharpest exponents of the form. Jan Bang brings his usual litany of samples (and skill with live sampling) to the fray; David Toop utilizes lap steel guitar, flutes, whistles, small percussion, harmonica, elastic, and paper; Mark Wastell attacks his tam tam with beaters, brushes, sticks, and bows, and also breaks out his autoharp and gongs. The results cohere in a brilliant aural morass of delectable, near-indescribable sound that brings out the best of all three performers. A shame the whole thing's only thirty-five minutes long, but, man, what an engrossing half-hour. Wastell and Toop start off hesitantly, tickling and teasing us as they gently rub metallic surfaces, engage in a flurry of tentative quacks and squeaks, tap, touch, and tantalize their respective objects to brave out some subtle nuggets of noise. Bang eventually enters the picture mutating his colleagues' broad strokes, cycling them repeatedly back into the mix with a colorful appliqué of ultravivid effects. At roughly the midway point, the whole becomes greater than the sum of its parts: Bang's electronics are in full-flight, transmogrifying the music's aspect ratio in a sensate, electronic rush while Toop's incorporeal whistles tag-team Wastell's brittle hand-strikes, the two of them fighting a veritable duel to the death. A crescendo of sorts occurs around the twenty-minute mark, as the three wind things down in subtly inventive fashion, their cumulative irruptions evaporating towards infinity. Fetching stuff, ear-rational in extremis.
- Darren Bergstein, DMG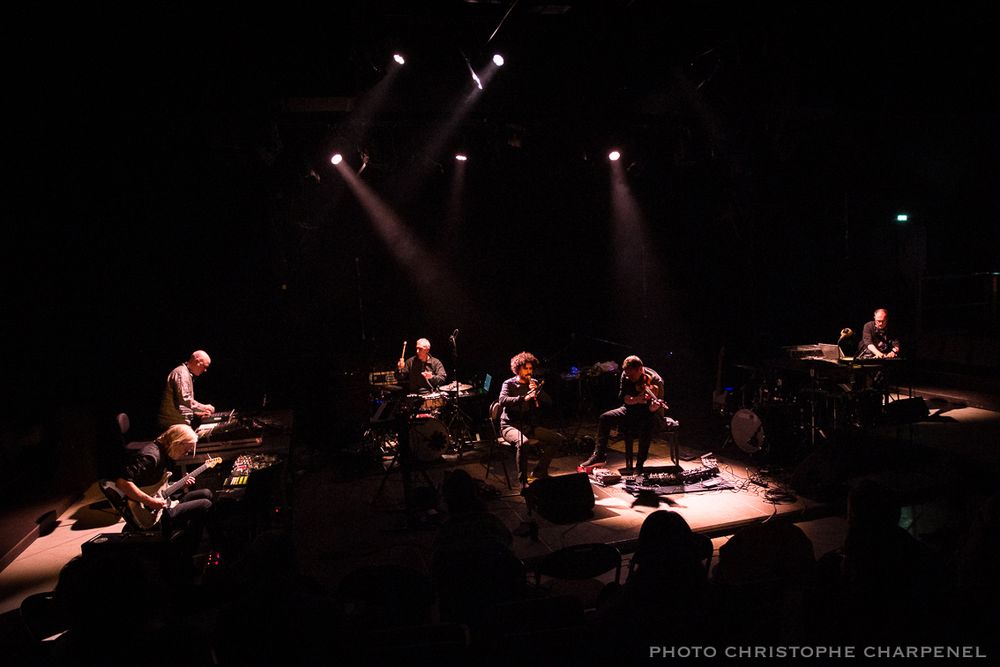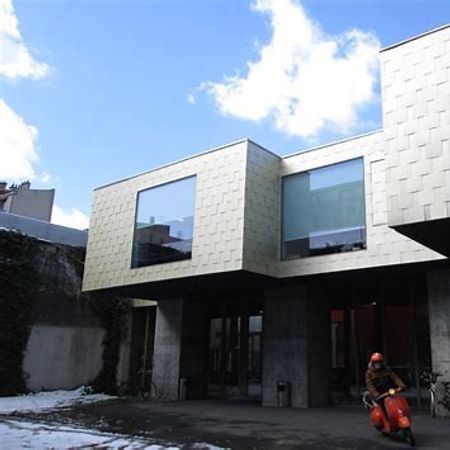 Punkt@Banlieues Bleues
April 11-12, La Dynamo, Paris
PUNKT is back at Banlieues Bleues in Paris. Included in the lineup is guitarist Eivind Aarset, Turkish duduk player Canberk Ulas, Erik Honoré and Jan Bang. Two days of Live remixes at La Dynamo, the great venue in Pantin, home of the Banlieues Bleues Festival where Punkt have been playing several times throughout the year.
« Une musique mystérieusement belle », « une intensité saisissante », la pianiste estonienne Kirke Karja est en train de devenir la nouvelle sensation de la jeune scène jazz européenne. Avec ce nouveau trio très européen, elle vient d'enregistrer un album qui concentre des techniques étendues de l'improvisation libre et de la composition contemporaine, en tirant son inspiration de vieux films muets effrayants et de machines cassées… A découvrir ! Kirke Karja piano, Etienne Renard contrebasse, Ludwig Wandinger batterie © kaupo-kikkas + remix : JAN BANG, ERIK HONORE, EIVIND AARSET Jan Bang live sampling, Erik Honoré live sampling, synthétiseur, Eivind Aarset guitare, machines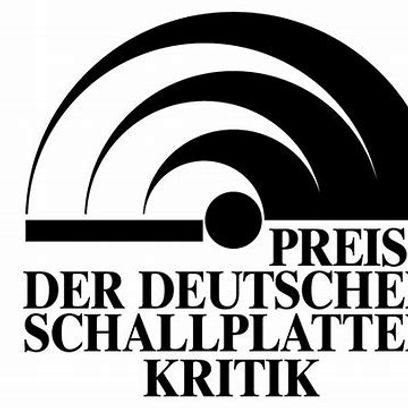 Dark Star Safari
German Critics Prize
Dark Star Safari "Walk Through Lightly" has been chosen as the best album in the electronic and experimental category of the quarterly Preis der Deutschen Schallplattenkritik (German Record Critics' Award), where the jury consists of German, Austrian and Swiss music critic.
The best and most interesting new releases of the previous three months are awarded a place on the Quarterly Critic's Choice. Evaluation criteria are artistic quality, repertoire value, presentation, and sound quality.
From 2014 onward, the Long Lists are stored directly with each Quarterly Critic's Choice.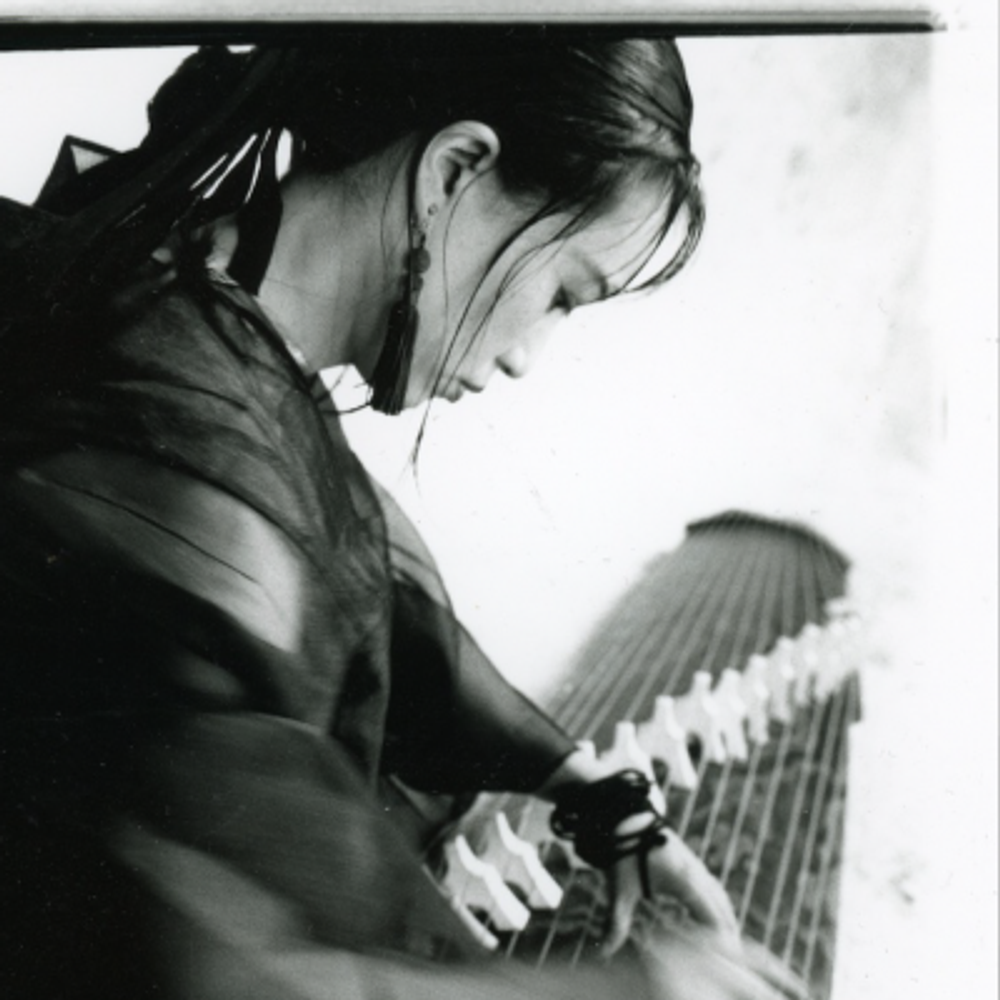 Distant Pairs MICHIYO YAGI & JAN BANG - THROUGH A LOOKING GLASS
Streaming Wed 09 Feb, 2022, 8pm
Thursday, February 9th at 8pm ET, ISSUE Project Room and AvanTokyo are pleased to present a new collaboration between Japanese improviser, composer, and koto player Michiyo Yagi and Norwegian musician, record producer and professor Jan Bang. The duo's new work will stream on ISSUE's site.
Notes from Michiyo Yagi regarding "Through a Looking Glass," her collaboration with Jan Bang
"Like many musicians the world over, I have been forced to work in a confined space during the past two years, whether performing for a virtual audience I am unable to see/feel or teaching masked students whose expressions are no longer readable. Although my music incorporates some electronics, it is essentially about a primitive acoustic instrument with a tiny sound trying to be heard around the world, and the Pandemic has been a stifling wall. Who, then, could be a better partner for this project than Jan Bang, whose multifarious career has largely been about breaking down walls? With these thoughts in mind, I sent Jan a set of improvisations and short compositions, imagining he would filter them in various ways — adding to or subtracting from the raw material, distorting/clarifying the components through his kaleidoscopic imagination, and ultimately unifying them in that unique sonic environment for which he is renowned." — Michiyo Yagi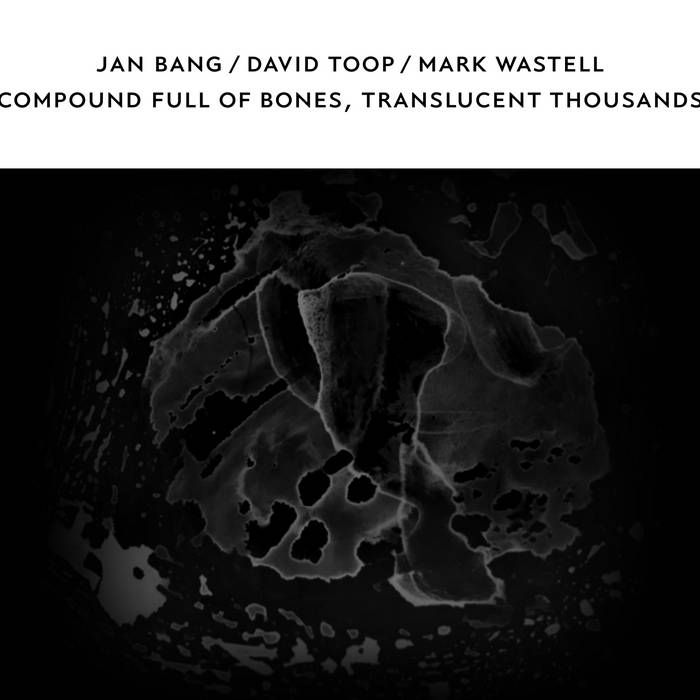 Compound Full of Bones, Translucent Thousands
New album release on Confront Recordings
From the moment I heard that this trio had spent a day in a London studio I have been anticipating the results. Three distinctive musical minds and voices: each familiar, never before together. 

Jan Bang's sound environments are deeply affecting, created with an Akai sampler and interwoven with the work of collaborators in both studio and live remix situations. There's a sensitivity and respect in David Toop's sound-making borne from his insatiable curiosity about the evolution of music in cultures across the world. Mark Wastell's use of acoustic percussion and his explorations into the potential of simple instruments result in nothing short of a spiritual communion with sound. 

No parameters were set for the sessions. Three improvisations of around thirty minutes duration were recorded. Afterwards, every sound played in those performances was brought together to create a unified whole. 

There are moments where each player's voice is distinct: the resonance of Wastell's tam-tam caresses, the bursts and trills of Toop's woodwind, the pitch-altered looping of Bang's manipulated samples. But the triumph of this collaboration is the sound world of their combined creation. 

There's an openness in the mix that allows each expression to breathe. It's like being encircled by some elaborate gossamer sculpture, flashes of colour and light glinting through as it catches the breeze. 

The trio's music creates a strong sense of place, yet you can't quite put your finger on the exact location. There are crescendos that remind me of the vibrant frenzy once experienced in the Amazonian rainforest. Jan Bang injects into the mix both snippets of his co-creators' performances and samples collected over time for deployment in just the right context. We hear faint orchestral swells and then voices, both spoken and sung, the recordings degraded so far as to be barely recognisable. These add a strange authenticity to this imagined territory, the acoustic purity of Toop and Wastell's instruments providing a counterpoint that expands the stage. 

Deep listening reveals some beautiful passages where all else subsides but for the elegance of a simple motif. None is more perfect than the gentle melody that emerges to bring resolution in the final moments. 

A Compound Full of Bones, Translucent Thousands has an eloquence that transcends both the circumstances of its creation in a small London studio and the finely-honed technique of each individual artist. Expressive, alluring: music with which to share your time and imagination.  
credits
released December 11, 2021 

Jan Bang - live sampling, samples 
David Toop - lapsteel guitar, flutes, whistles, small percussion, harmonica, elastic, paper 
Mark Wastell - Paiste 32" tam tam, gongs, beaters, brushes, sticks, bow, autoharp 

Recorded by Shaun Crook, London, 22 November 2019 
Compositional structure by Mark Wastell 
Mixed and mastered by Rupert Clervaux 
Cover image by Crimson Wastell 
Liner notes by David Nibloe 
Design by Matthew Brandi 

Produced by Mark Wastell