Nice reviews of Dark Star Safari's "Walk Through Lightly" from Italy and Spain:  
«Masterpiece. If we could end 2021 here, I'd close it with this album.» – MusicMap (IT)  
«Everything here seems to question the consensus of pop listening, as if this cluster of songs was a distant, astral cousin of Japan's "Tin Drum" (1981) or Talk Talk's "Laughing Stock" (1991).» – Rockdelux (SP)  
«Soft, sophisticated atmospheres, wisely measured out with class and a light touch.» – Blow Up (IT)  
--  
The album is available physically or digitally, for example here:  
https://arjunamusic-records.bandcamp.com/album/dark-star-safari-walk-through-lightly 
https://bigdipper.no/arjunamusic/amellp721/dark-star-safari-walk-through-lightly-lp 
https://www.junodownload.com/products/dark-star-safari-walk-through-lightly/5248269-02/   
https://www.beatport.com/release/walk-through-lightly/3494606 
https://music.apple.com/us/album/walk-through-lightly/1583615304 
http://www.arjunamusic.com/shop/dark-star-safari-walk-through-lightly/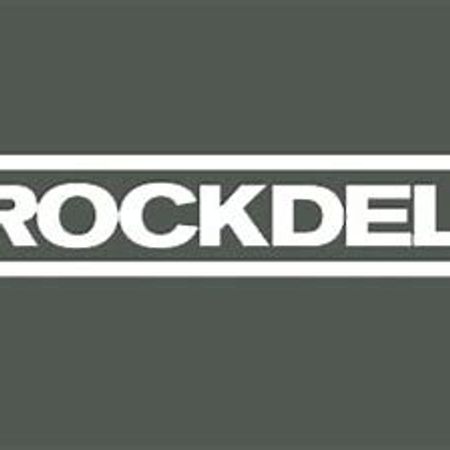 Superb review of Dark Star Safari
Rockdeluxe (Spain)
Dark Star Safari
Walk Through Lightly › Arjunamusic, 2021
Por Marcos Gendre
20. 10. 2021
Poco caso se hizo en su momento a "Dark Star Safari" (2019), sobresaliente debut discográfico de Dark Star Safari, formación compuesta por músicos con trayectorias tan labradas en terreno vanguardista como las de Jan Bang, Erik Honoré, Eivind Aarset, Samuel Rohrer y John Derek Bishop. 
Si en su primer LP ofrecían un muestrario pop a lo Talk Talk al modo David Sylvian (no en vano, Bang y Honoré han colaborado con el dandy del pop experimental), ahora prosiguen en esta misma línea, aunque inyectando fuerza orgánica a la parte instrumental, que en su anterior álbum avanzaba a golpe de atmósfera oscura, depurada entre ritmos disueltos en su propia tracción parsimoniosa. 
Aquí las coordenadas prosiguen su particular rastro difuminado, expuesto desde "Patria", corte con el que arranca este tránsito sobre los restos de canciones que parecen haber sido reducidas a cenizas para poder retomarlas desde su forma disuelta. La ingravidez naciente de esta metodología prende en un sonido descompuesto en ecos eléctricos bajo tierra, vientos casi insinuados o bajos tortuga, abstraídos en el ensimismamiento general sobre el que avanzan canciones como "Life Stand Still", muestra mayor de talento, destilada por un grupo de alquimistas de las texturas y los sonidos de trastienda. Los mismos que, por momentos, resuenan como una especie de versión psicodélica de los sagrados preceptos ambient-jazz constituidos en el mítico sello discográfico ECM, en el que también ha publicado Rohrer. 
Desde la torre mayor de este palacio de cristal instrumental, se yergue la voz mercurial de Bang, cual Bryan Ferry aprisionado en una dimensión espectral de la materia pop. Porque aquí todo parece querer poner en tela de juicio los consensos de escucha pop, totalmente dispuestos, como si este racimo de canciones se tratara de un primo lejano, astral, de "Tin Drum" (1981) de Japan o del "Laughing Stock" (1991) con el que Talk Talk asentaron los mandamientos de la acción post-rock, del cual parece haber sido rescatada la hipnótica "Portraits Of You". Tanto este corte como el resto que componen "Walk Through Lightly" subrayan la influencia que tuvieron los inimitables Bark Psychosis, aquí sublimada en la obsesión subyacente, en todo momento, por amplificar la sensación de cada uno de los cortes. 
El inquietante minimalismo arty articulado en "Measured Response" y "Father's Day" representan la faceta más personal de un grupo capaz de invocar ríos de belleza tan oníricos como "Invocation". Corte donde también hacen uso de su praxis, moldeada en torno a una base compositiva mínima, a partir de la que se sumergen en el maelstrom de la improvisación, encauzada desde la composición con partículas sónicas pintadas a lienzo en la atmósfera. Dicha sensación pictórica, sin aparentes amarres compositivos, se hace muy presente en "Murmuration". Temas como este último aluden a la obsesión lírica de un grupo que, tal como reflejan sus letras, no hace distinciones entre el mundo real y los estados mentales gaseosos, ensoñadores. Tanto como en "Passover" o en la titular del álbum: muestras de peso de lo que significa tallar el aire que nos rodea con sinfonías surrealistas plenas de oxígeno. Las mismas que componen tan sembrado cosmos de pop ingrávido. ∎
English translation:
Little attention was paid at the time to "Dark Star Safari" (2019), an outstanding recording debut by Dark Star Safari, a formation made up of musicians with trajectories as carved in avant-garde terrain as those of Jan Bang, Erik Honoré, E claim Aarset, Samuel Rohrer and John Derek Bishop.
  If in their first LP they offered a pop sampler a la Talk Talk in the David Sylvian way (not in vain, Bang and Honoré have collaborated with the dandy of experimental pop), now they continue in this same line, although injecting organic force to the instrumental part , which in his previous album advanced at the stroke of a dark atmosphere, refined between rhythms dissolved in its own parsimonious traction.
  Here the coordinates continue their particular blurred trace, exposed from "Patria", the cut with which this transit starts over the remains of songs that seem to have been reduced to ashes to be able to resume them from their dissolved form.  The nascent weightlessness of this methodology ignites in a sound decomposed into echoes under the ground, almost insinuated winds or turtle bass, absorbed in the general self-absorption on which songs like "Life Stand Still" advance, a greater sample of talent, distilled by a group of alchemists of back room textures and sounds.  The same ones that, at times, resonate as a kind of psychedelic version of the sacred ambient-jazz precepts constituted in the mythical record label ECM, in which Rohrer has also published.
  From the main tower of this instrumental crystal palace, Bang's mercurial voice rises, like Bryan Ferry imprisoned in a ghostly dimension of pop matter.  Because here everything seems to want to question the consensus of pop listening, totally willing, as if this cluster of songs were about a distant cousin, astral, from Japan's "Tin Drum" (1981) or from "Laughing Stock" (1991) with which Talk Talk established the commandments of post-rock action, from which the hypnotic "Portraits Of You" seems to have been rescued.  Both this track and the rest that make up "Walk Through Lightly" underline the influence that the inimitable Bark Psychosis had, here sublimated in the underlying obsession, at all times, to amplify the sensation of each of the tracks.
  The haunting arty minimalism articulated in "Measured Response" and "Father's Day" represent the most personal facet of a group capable of invoking rivers of beauty as dreamy as "Invocation."  Court where they also make use of their praxis, molded around a minimal compositional base, from which they immerse themselves in the maelstrom of improvisation, channeled from the composition with sonic particles painted on canvas in the atmosphere.  This pictorial sensation, without apparent compositional ties, is very present in "Murmuration".  Topics like the latter allude to the lyrical obsession of a group that, as reflected in their lyrics, makes no distinction between the real world and gaseous, dreamy states of mind.  As much as in "Passover" or in the title of the album: weighty samples of what it means to carve the air that surrounds us with surreal symphonies full of oxygen.  The same ones that make up so strewn cosmos of weightless pop.  ∎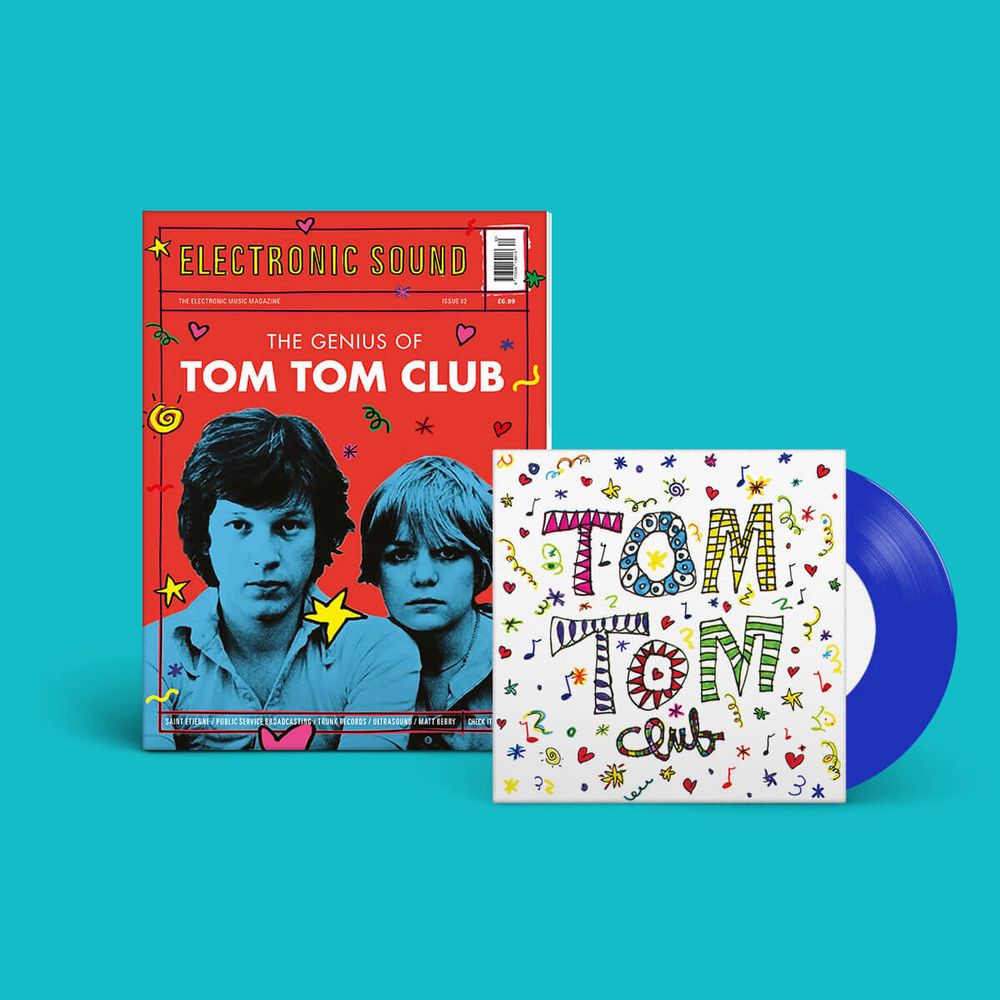 Electronic Sound review of Dark Star Safari
High appraisal for "Walk Through Lightly" album in British magazine, Electronic Sound
For their second Dark Star Safari release, the Norwegian quintet of Jan Bang, Erik Honoré, Eivind Aarset, Samuel Rohrer and John Derek "Tortusa" Bishop deal in extreme subtleties, both acoustic and electronic. On tracks such as "Father´s Day", "Invocation" or "Passover", its what's going on behind Bang´s gently ruminative vocal that's important. We hear atomized modular synth sequences, forced silences, rich, unidentified textures and gently swinging jazz motifs, all structured with a quiet enveloping intensity. Understated, but powerful - MS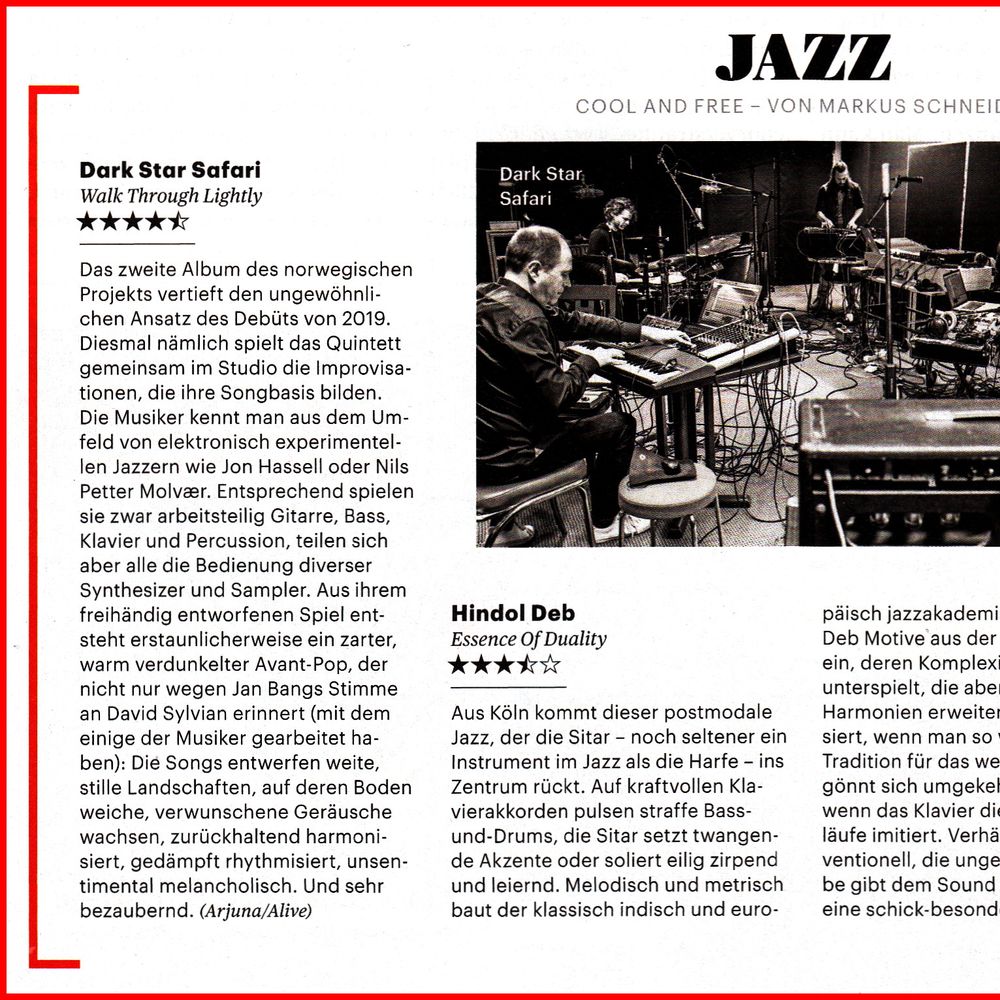 Rolling Stone review
Four and a half stars out of five for Dark Star Safari
High appraisal for Walk through lightly in German Rolling Stone magazine October issue.
Dark Star Safari's Second Album Next on Arjunamusic Records
'Walk Through Lightly' LP is scheduled for September 24 release.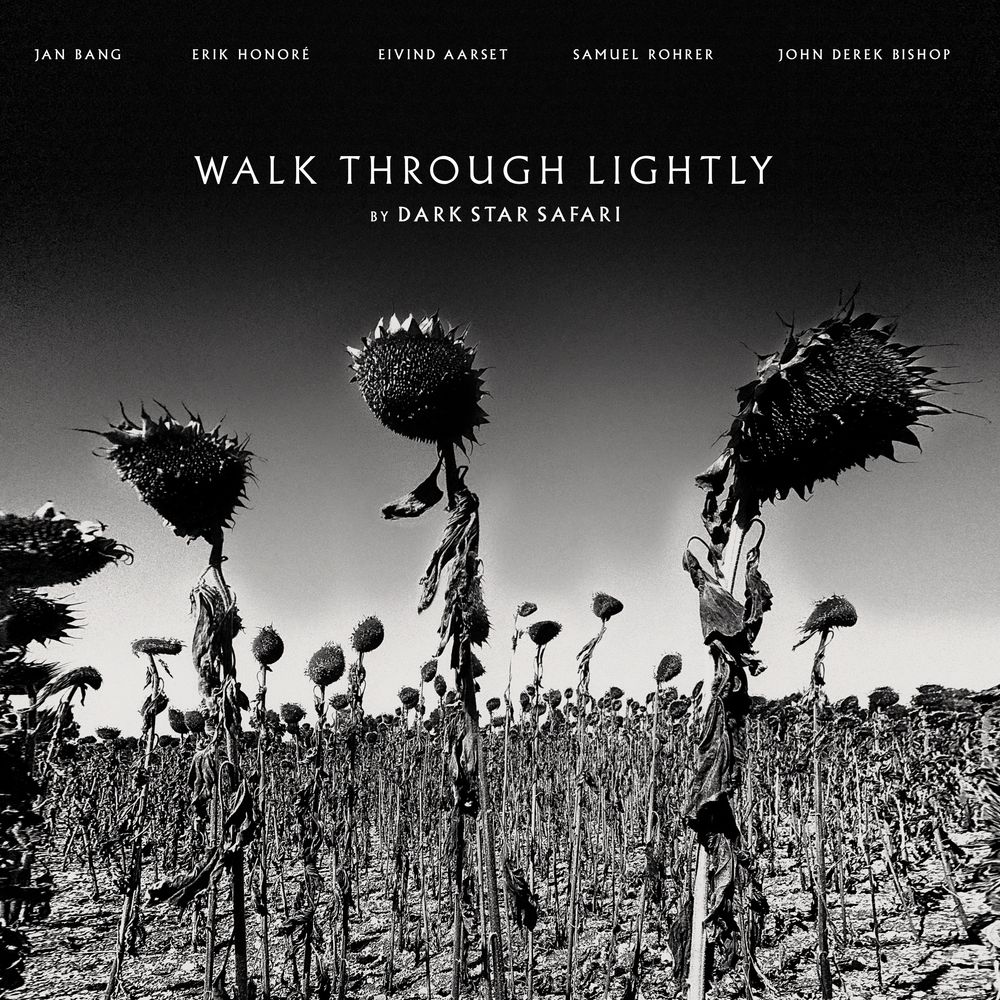 Arjunamusic Records will present a new album by Dark Star Safari, the project of Jan Bang, Erik Honoré, Eivind Aarset, Samuel Rohrer, and John Derek Bishop. 
Walk Through Lightly is the group's second album, following their self-titled debut in 2019. It's the first to feature John Derek Bishop, a producer from Stavanger, Norway. This makes for a "more organic refinement" upon a methodology that sees them writing songs using a two-stage process: an initial phase of free-flowing open improvisation, and a subsequent "exploratory phase" where "hidden potentials" are "discovered and nurtured."
Within these layered, many-textured fabrics, the lyrical imagery delivered by Bang focuses upon coming to grips with sudden transformations. 
We're told that this second album is "frosted over with a Scandinavian sense of spatiality and melancholy," and that listeners will feel as if "teleported directly into the middle of an enigmatic film-in-progress." 
Arjunamusic Records, based in Berlin, Germany, has been focusing on experimental acoustic music since 2012. For more information on label head Samuel Rohrer, check out his XLR8R podcast here. 
Tracklisting
01. Patria
02.Life Stand Still
03. Portraits of You
04. Measured Response
05. Father's Day
06. Invocation
07. Murmuration
08. Passover
09. Disembodied
10. Walk Through Lightly
Walk Through Lightly LP is scheduled for September 24 release. 
Editor's note: We'll add pre-order links and public streams as they become available.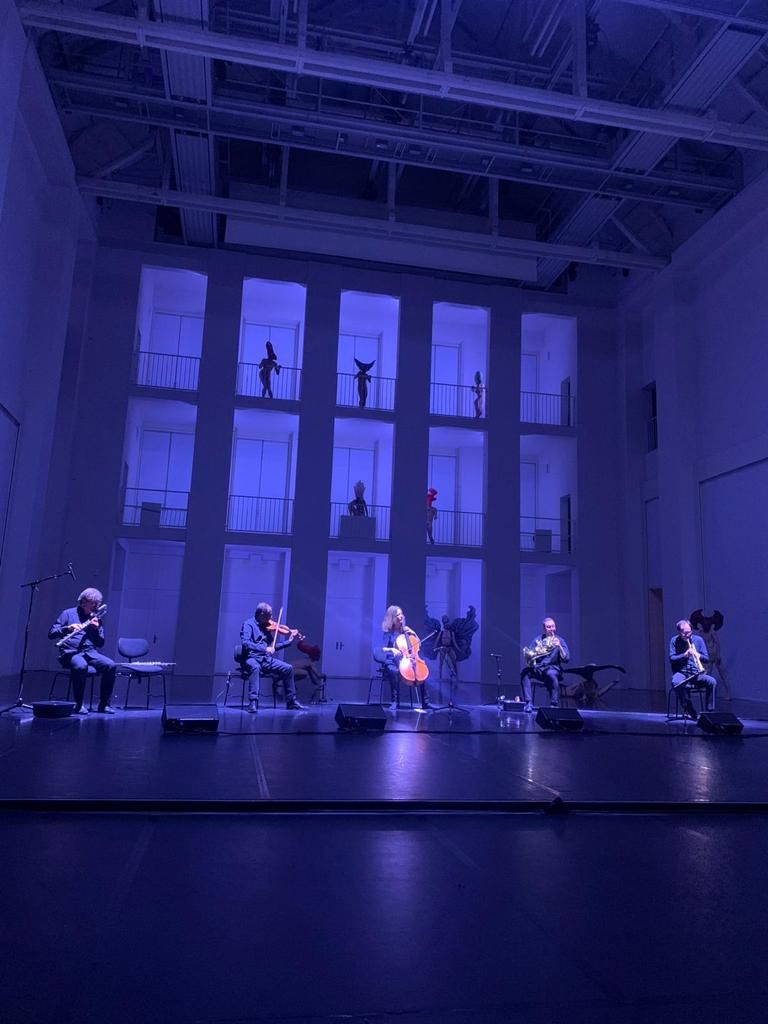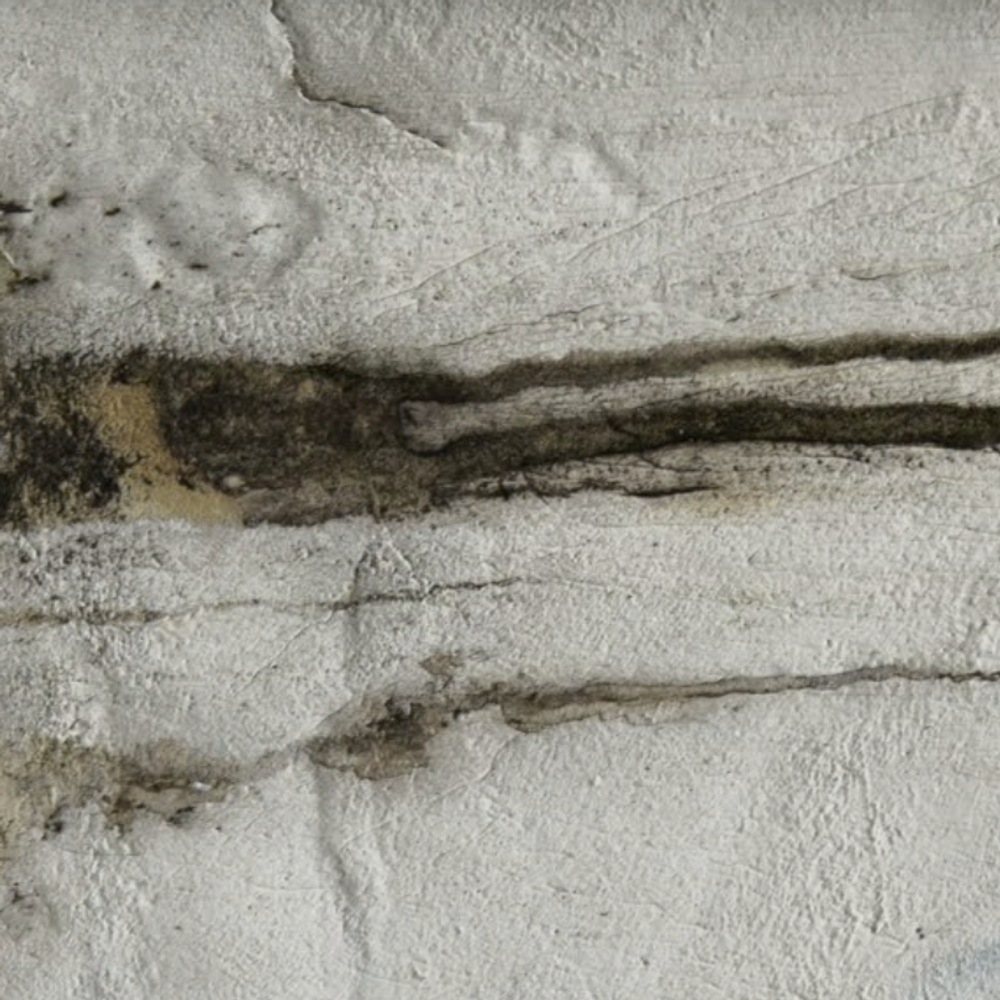 Common Day Affair (silence, and near silence)
Commissioned by Cìtta Sonora as part of Cage Unlocked 2021-2022 In a Landscape, 4´33 Web Reinvented.
     Common Day Affair [ silence, and near silence ]
Music composed by Jan Bang
Photograpy: Alf Solbakken
Graphic design: Nina Birkeland
Production co-ordinator: Martel Ollerenshaw / Arts&Parts
premiere tonight May 30 at 9pm.