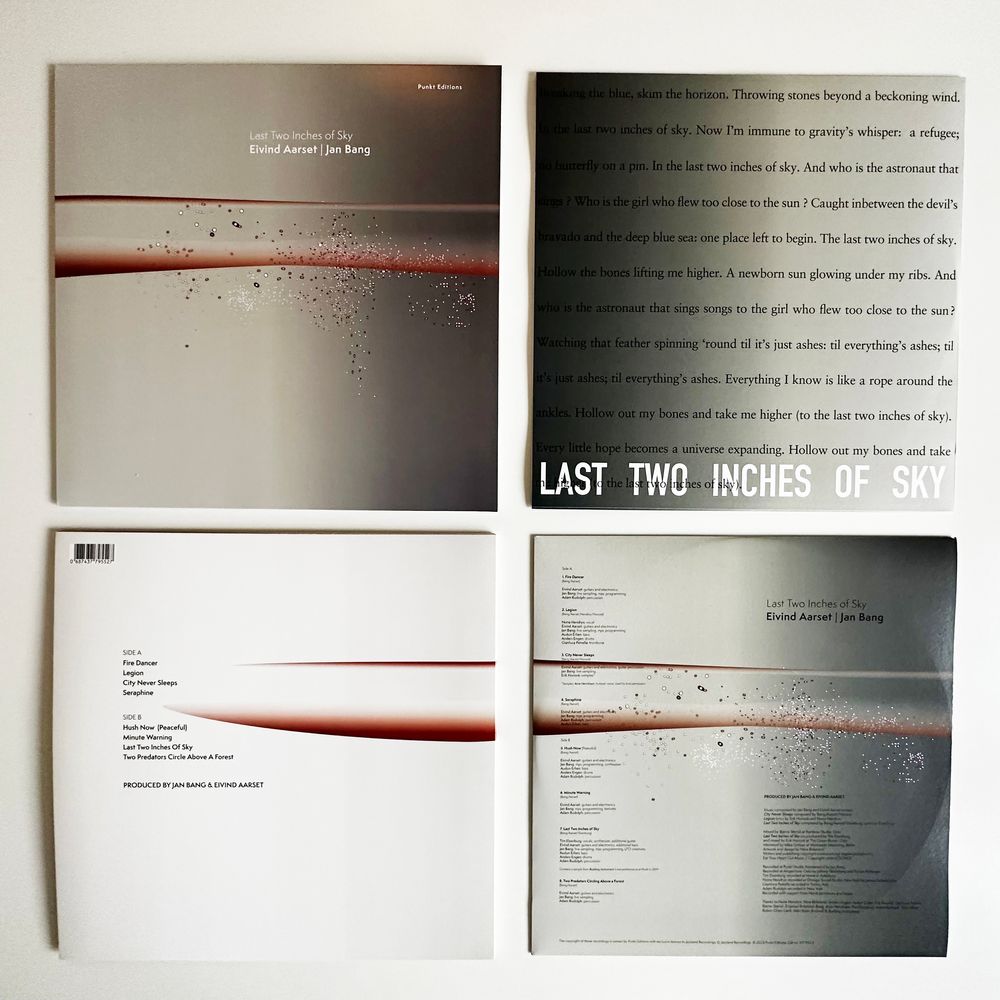 EIVIND AARSET | JAN BANG
Last Two Inches of Sky
«Last Two Inches of Sky», released by the Punkt Editions label on 23 September, is an ambitious and engaging mixture of sonic painting and art-pop; a new high point in Eivind Aarset and Jan Bang's collective output.
Aarset and Bang have collaborated since the early 1990s in constellations with, among others, Nils Petter Molvær, Bugge Wesseltoft, Sly & Robbie and Jon Hassell. «Snow Catches on her Eyelashes» (2020) was their first recording as a duo, an album that was widely praised, inspiring John Eyles of All About Jazz to write: «Aarset, Bang and company go from strength to strength, as does the Norwegian scene. Onward and upward.»
«Last Two Inches of Sky» further expands this sonic universe – onward and upward. Like its predecessor, the new recording is an amalgam of styles, linked together by Jan Bang's hallmark sampling technique and Eivind Aarset's continuous exploration of the guitar. Now, the rhythm section of Audun Erlien (bass) and Anders Engen (drums) are prominent on most tracks, and the arrangements are enhanced by guests like Gianluca Petrella (trombone), Adam Rudolph (percussion), Emanuel Birkeland-Bang (drum programming) and Erik Honoré (samples, lyrics on «Legion»).
Both conceptually and sonically, «Last Two Inches of Sky» is a multi-dimensional experience of dreams within dreams, layers upon layers of colours, light and shade. While the seamlessness and warmth of the duo's earlier work is still present, the new album is thoroughly grounded in a bass/beat foundation owing much to the Jamaican sound systems of the 1970s, but placed within a decidedly 2020s context.
At times the music crosses from abstract soundpainting into melodic art-pop territory, primarily on the two vocal pieces, still with a distinctive dub feeling at its core: «Legion» with vocals by Nona Hendryx (founder member of Labelle) and the title track sung by Tim Elsenburg of British quartet Sweet Billy Pilgrim.
On this track, with its Icarus-inspired imagery of ambition, risk and hope, Tim Elsenburg yearns for the hollow bones of birds; light enough for the protagonist to break free, to soar:

Everything I know is like a rope around the ankles
Hollow out my bones and take me higher
To the last two inches of sky

Listening with your eyes closed, this is exactly the escape that Eivind Aarset and Jan Bang's powerful new album offers you. Close to the sun, perhaps, but grounded by the beat.
***
«Last Two Inches of Sky» will be released by Punkt Editions on 30 September. In addition to a release concert at Victoria Nasjonal Jazzscene on 30 September, where Aarset/Bang are joined by Audun Erlien (bass) and Hamid Drake (drums), the duo will go on tour in November with Audun Erlien (bass) and Samuel Rohrer (drums).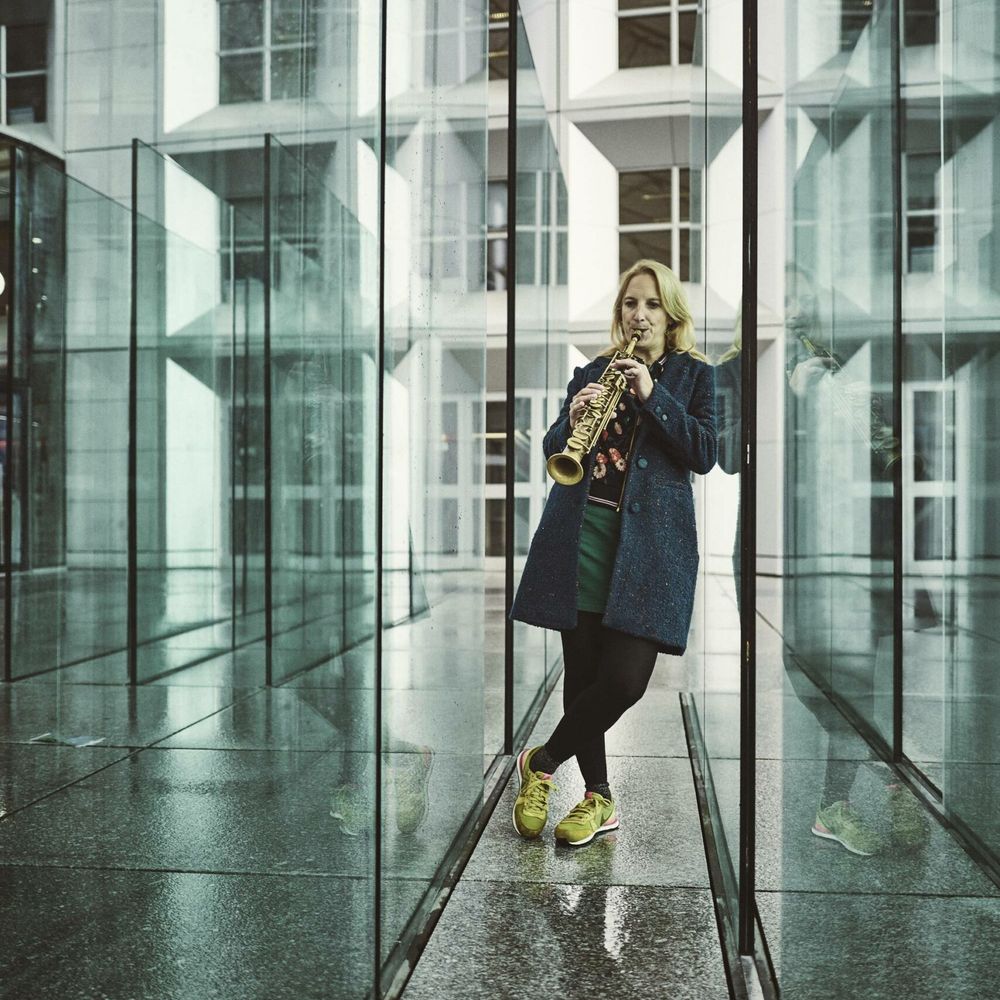 Enjoy Jazz, Mannheim
October 6
Alexandra Lehmler invites Jan Bang & Vincent Courtois
Beyond all routines! For more than a decade, Alexandra Lehmler has been regularly present at Enjoy Jazz with a wide variety of projects. At the time, i.e. in 2014, she had just been awarded the Landesjazzpreis Baden-Württemberg and subsequently distinguished herself by always looking for exciting, challenging constellations and encounters. And so she has shared the stage with Herbert Joos, Franck Tortiller, Patrice Héral or Federico Casagrande, among others. Nevertheless - or precisely because of this - 2023 is something very special. There's Norwegian Jan Bang, master of live sampling and live remix and one of the masterminds behind the "Punkt" festival in Kristiansand, southern Norway. Alexandra Lehmler met Jan Bang on the sidelines of one of her concerts and has been curious about the electronic play of the improvised for quite some time. In Vincent Courtois she appreciates not only his versatility, whose virtuoso cello playing knows how to combine the robust with the melodious. So a trio as a premiere: saxophone(s), cello, live sampling, electronics. As a trio an experiment, a sound laboratory of improvisation. It is a matter of using the favor of the constellation.